Summer in Australia can be very hot, which is perfect for solar dyeing :) I've been reading up on different dyeing methods ever since I started spinning, solar dyeing jumped out particularly because it's energy efficient and easy to do. Now that summer's finally here I'm eager to try it out!
I had some of my own hand carded hand spun 75/25 merino tussah silk blend that I wanted to dye, my little man helped me mixing the colours because he wanted to create Cyan. First the yarn was pre-soaked in a white vinegar solution to help set the colour because I was using food dyes, then I filled two jars (a pickle jar and a recycled Chinese sake jar) with my dye stock and submerged one skein in each jar and left them in the sun to cook: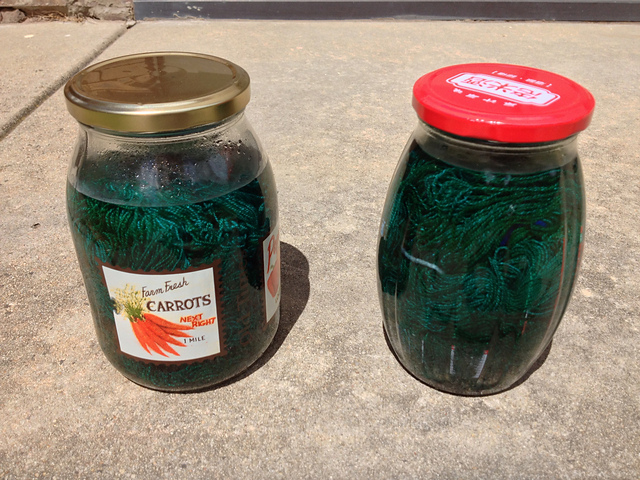 ... ... and when the water in the jars was clear I rinsed the yarn and hang it to dry, and tah dah!
I'm not sure it's Cyan but I quite like the effect, it's been named
Summer Seas
:D
Finally I can show you my finished
Fern Amiga Cardigan
, it's very comfortable to wear and weighs hardly anything. This is the eleventh of my
IntSweMoDo2012
challenge, I'm still one short, yikes!
The response to
my story last week
was good,
Vivian
was particularly encouraging (she always is!). I wish there was something exciting to share with you this week but it has been an ordinary week with lots of to-ing and fro-ing, including visits to dentists and GPs, lawyers and barristers, oh and I went to prison again (that doesn't sound right!). The story I'm sharing today didn't happen in this week but it concerned the same client that I saw in prison which I think highlights the challenges we interpreters face in Court Interpreting.
The visit to prison this week was by a psychologist at the request of the defence lawyer. The inmate, let's call him H, he might appear in other stories, was accused of murder. I have been working on this case for about two years now and H is still in remand. He was due to be sentenced a few months ago, I went to the meeting with his lawyer and barrister a few days before the hearing and during the meeting H agreed to plead guilty in the hope of a reduced sentence. I thought that was the end of it, but a week later his lawyer called me to attend another meeting with him. Apparently during the arraignment H first pleaded guilty (through an interpreter), but when the judge was going through the particulars for the next steps H had an outburst saying that he would never admit to murder. You can imagine the confusion and kafuffle! During that follow up meeting H insisted that he
Did Not
plead guilty in court, that the court interpreter got it wrong. However as a result of this misfortune his lawyer and barrister could no longer represent him, as they themselves might be called as witnesses when the matter was investigated. H had to find another lawyer.
The new lawyer kept me on the case and obtained the court recording to find out what had happened, I went through the recording countless times and did a transcript verbatim. The recording did show that H pleaded
not guilty
and when the interpreter interpreted "I plead guilty" H was visibly surprised (he did understand that much in English), and the outburst ensued a minute or two later. Now I'm not criticising that court interpreter in any way, in fact I sympathise and feel sorry for her because her competency and reputation will be put under scrutiny. The acoustics in courtrooms are generally bad, particularly in the supreme court where this hearing was held. Interpreters always have a hard time at catching what everyone's saying in court as we don't get headphones like conference interpreters do. Added to the difficulty was that H did not appear in person but via video link, I can only imagine the sound quality, plus H has a tendency to mumble anyway. When I did the transcript I had the luxury of going over the recording numerous times but, when in court, blink and you'll miss it and then your reputation is on the line. Such are the perils of court interpreters. And that's my story for this week.
Thanks for dropping by, there is more fibre arts fun at
Wisdom Begins in Wonder
. Indulge your creative side and join the party!